We had 2-day passes for Disneyland [see post here] and California Adventure, so on Wednesday was the California Adventure time! We woke up early and headed to the park to get there by the time they opened. We walked downtown and stopped at Starbucks to get a drink and something small to eat for breakfast. I got a butter croissant and my new favorite drink: the shaken green tea infusion strawberry lemonade. Delish!
We got to the park and they still weren't open. We stood in line for about 10 minutes until they began letting everyone in. The first ride we went on was California Screamin', which is the biggest roller coaster at the park. I remember really loving this ride, although it does go upside down, so I wasn't sure how I would feel about it now (since I'm getting old and stuff…) The ride was fun, it didn't drop my stomach too much, but it did get me a bit dizzy.
Right after California Screamin' we went on Mickey's Fun Wheel, which is like a ferris wheel type of ride. And boy, was that the worst mistake of the day! I was already feeling dizzy from the previous ride, so when we were on Mickey's Fun Wheel and our cart began to rock back and forth really hard, that's when I began feeling incredibly nauseous. Fortunately they had 'Motion Sickness' bags in the cart that Lauren found, so she handed me the bag. Sabrina was laughing while the cart was rocking and nobody believed  that I really had to vomit, until I literally did. It was horrible! The cart went around twice, rocking back and forth so hard, while I was sitting there vomiting and feeling horrible. I literally had that bag almost half full.
Finally the ride was over and I got off feeling so bad. I thought I would begin feeling better right after the ride, but unfortunately I kept feeling sick. DB got us water to drink, and I drank about half the water bottle. Apparently we had went in the 'Swinging' line instead of the 'non swinging' line, and that's why our cart rocked back and forth!! I've never thrown up on a ride…let alone thrown up in years…so it was crazy how much that ride upset my stomach!
After that whole ordeal, they decided to go on the Little Mermaid ride while I waited outside on the bench….I was not in the mood for anymore rides. While waiting I began to feel nauseous once again…literally the worst feeling ever, omg! They came out from the ride and I told them how I felt so we headed to the bathroom. That's where I vomited the water I just drank….I didn't even know you could vomit just water! So crazy!
I still felt sick afterwards and my mom, DB and the kids decided to get in line for another ride. My sister sat with me for awhile so I could gain my composure, then we walked around and took some photos. In this photo I was still feeling pretty sick, but couldn't resist taking a pic:
I even took this amazing photo of my sister:
Fortunately, after about an hour or two, I finally began to feel better and normal again! I was hoping I didn't feel that way all day, because it really sucked feeling that way. I didn't end up riding anymore rides because I didn't want to risk feeling nauseous again. But California Adventure was awesome without the rides…they had tons of shopping, the super hero section, the Hollywood Land, and tons of sight seeing.
I really loved Hollywood Land! It was cool seeing the 'Hollywood' buildings and sets. They also had a Disney parade in Hollywood Land which was awesome. They had tons of Disney characters from movies like Finding Nemo, Toy Story, Monsters Inc, and Cars.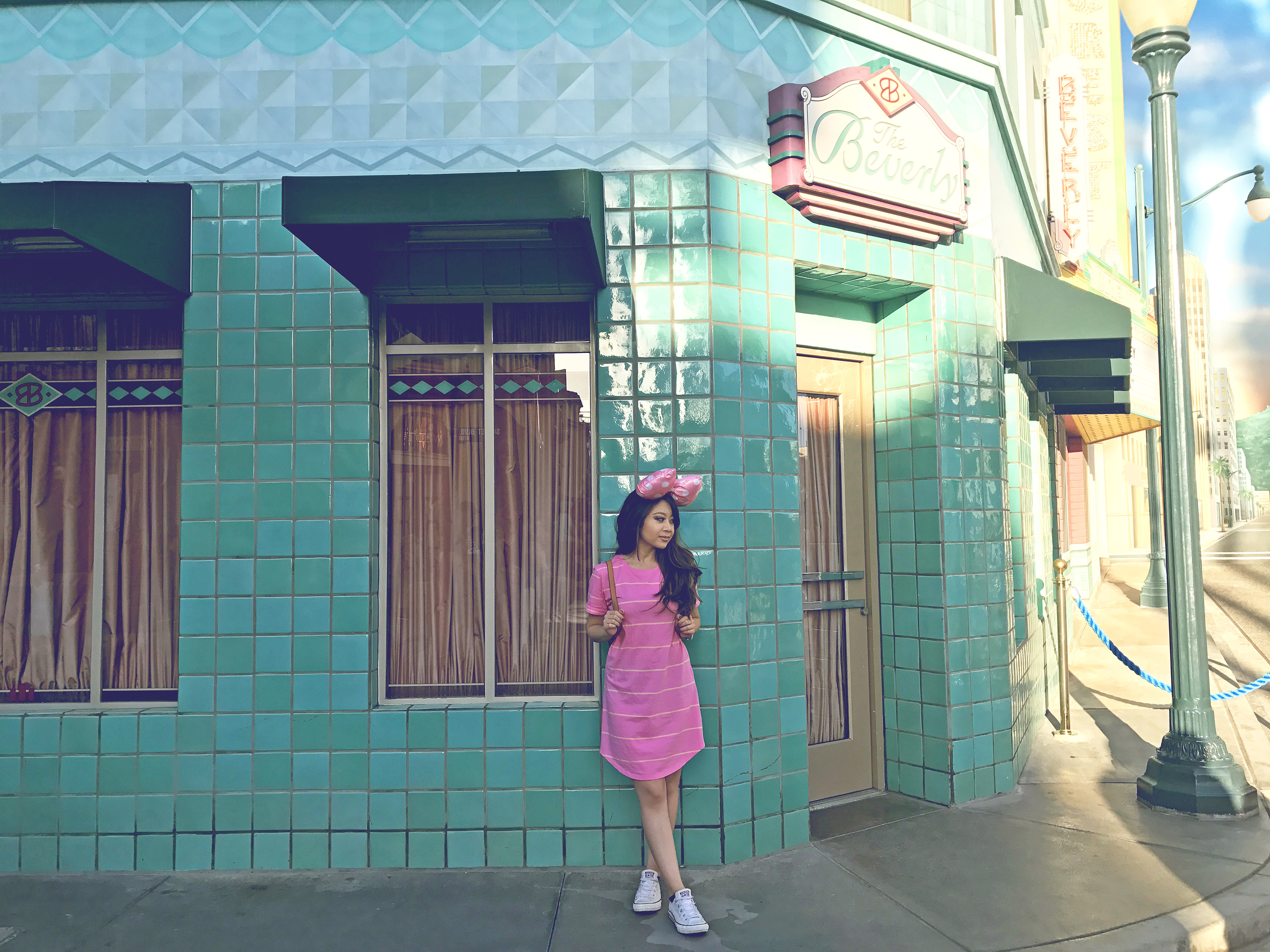 A lot of the rides also had pretty awesome entryways, like the Monsters Inc ride. Love this gigantic pink door!
We ate at Smokejumpers Grill for lunch, which was OK. Not the best nuggets and fries for those prices most definitely.
My sister and I found places to shop and found some really cool souvenirs here. We also took more photos in nice secluded areas by the water! I just wore this pink striped t-shirt dress with white Converse to be comfy, and of course the large bow again!
We did a lot more walking around and exploring the park. I did like California Adventure much more. The rides are more adult and there are a lot more places to explore and see. I think their souvenir shops were a lot better too!
Later that evening we walked back to Downtown Disney and ate at Tortilla Joe's for dinner. I had the chicken enchilada's with black beans and vegetables, which was pretty good. We did more souvenir shopping at the World of Disney store where I got T-shirts for my dad, Joseph, and Josh. My sister and I also surprised my mom and DB with matching Star Wars shirts as a thank you gift for taking us on this trip.
We got back to the hotel after 9pm, and that's when the rooftop firework show is, which you can see from our hotel. Me, my sister, and the kids headed to the 3rd floor rooftop pool area to watch the fireworks, which were pretty awesome. It was a great show to end the night!
The next morning our flight left around 10am to head back home. It was a great trip with quality family time, which was most important!
Even though I got sick in the beginning, I really enjoyed California Adventure and all the cool things they had for us to see.
I want to thank my mom and DB for bringing us along on this trip. I really appreciate it more than words can say – I had an amazing time! Thank you for all the time and effort put into it all, I know the kids loved it as well and you guys are the best for this! Love you guys! ❤️❤️❤️
If you haven't seen the Disneyland blog, check it out here!
Watch my Snapchat video from the California Adventure day here:
---