If you ever asked me what my favorite sneaker of all time would be, without a doubt it would be Converse. I've worn Converse since middle school, and owned almost every color imaginable. You may have noticed I've worn my white Converse in several different blog posts [like here, here, or here]. In my opinion they are the most comfortable and stylish shoes out there! For example, the day I went to Disneyland I wore Nikes, and my feet hurt so bad by the end of the day. The next day I went to the California Adventure park and wore my Converse, with no feet pain whatsoever by the end of the day. I've worn them to several all-day standing and walking events and have never had any issues.
Converse definitely go with almost any outfit to give it that casual vibe. Even if you choose colored Converse [like pink or yellow] you can still style it several ways! I love pink [as you may know] and decided to grab that pop of color with pink Converse. So if you're wondering if you should take the plunge with a bold color too, here are three ways you can style them:
ELEGANT CASUAL OUTING FEAT. BLUSH SKIRT
Converse can definitely dress down an outfit. This blush skirt and off the shoulder button down top could have been a whole new look if I had chosen to wear heels and a crossbody bag instead.
So throwing on the Louis Vuitton Montsouris backpack gives it that extra oomph of casual atmosphere.
This look would be perfect for a day at the park, brunch, casual dinner, shopping, or a meet up with friends.
You also don't have to match your outfit to the exact same pink of the shoes. It's nice to mix and match different shades of color for a bold look. You're not breaking any rules!!
STREET STYLE ERRANDS FEAT. DISTRESSED DENIM
Of course, you gotta wear pink Converse with that easygoing boho vibe! A knit crop top with distressed jeans is the perfect outfit for a festival, concert, or fun outing with friends.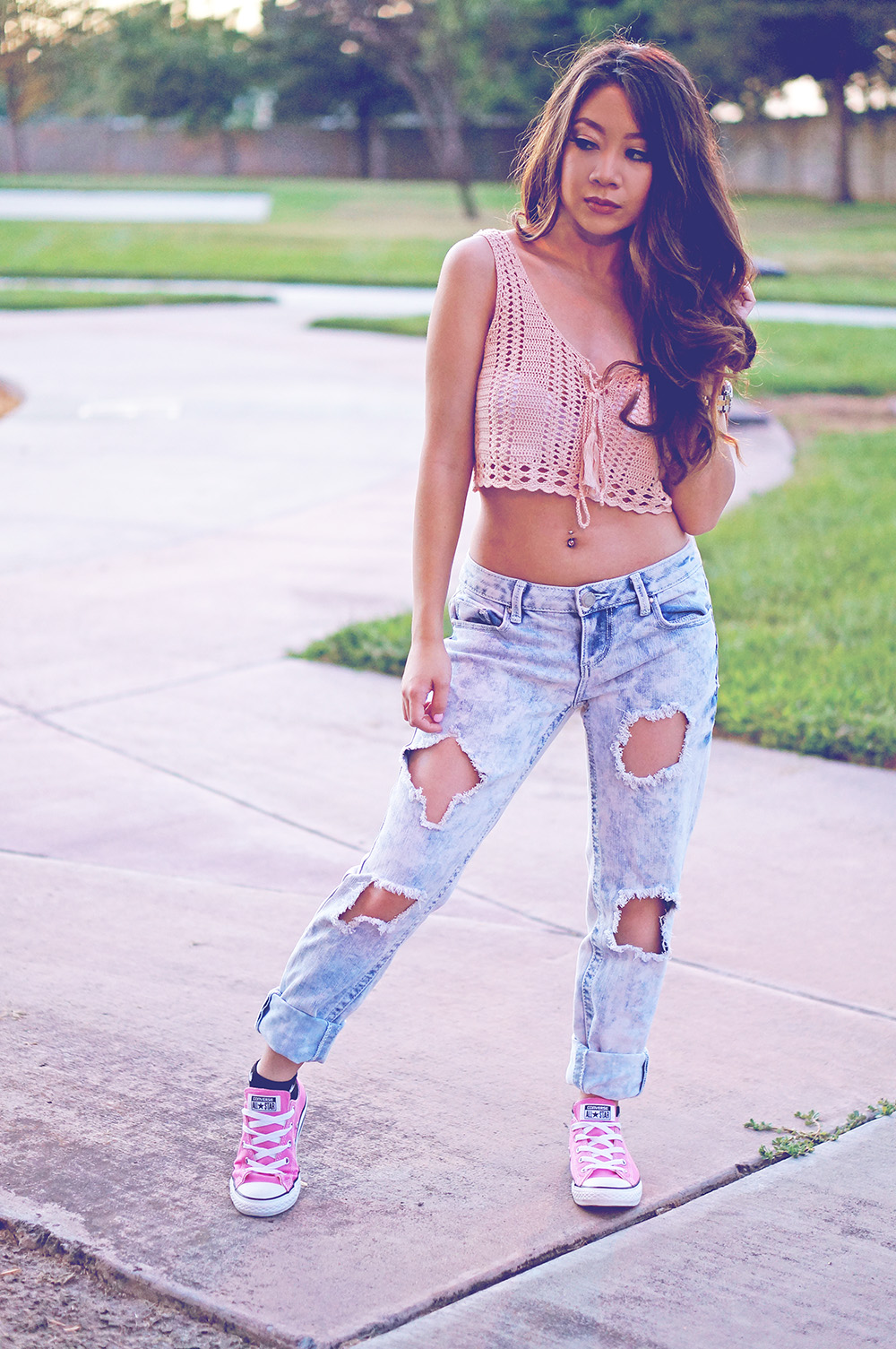 These are one of my favorite distressed jeans! I love the placing of the rips and love the way they fit…they look perfect paired with these Converse…let's get ready to start rockin' with this outfit, haha!
FANCY CASUAL TEA PARTIES FEAT. LACE T-SHIRT DRESS
Pairing Converse with a T-shirt dress is also one of my favorite looks! This one happens to be a girly lace vintage-type T-shirt dress. The pink Converse give it a pop of color with casual energy. Perfect for those relaxed tea parties, vintage shopping, or party hosting events.
I hope this post gave you some ideas on how to style bold colored Converse! Of course there are tons of other ways to style them as well, but then you'd be here all day. 😉
---