This entire week I've been on vacation (my first vacation in 4 years, by the way) and it has been very refreshing having a week off! My mom decided to take all of us to Disneyland and California Adventure for DB's birthday because his kids have never been there. This blog post will be all the Disneyland photos, and in my next blog post I will share the California Adventure photos (and what a story for that day, ahem….)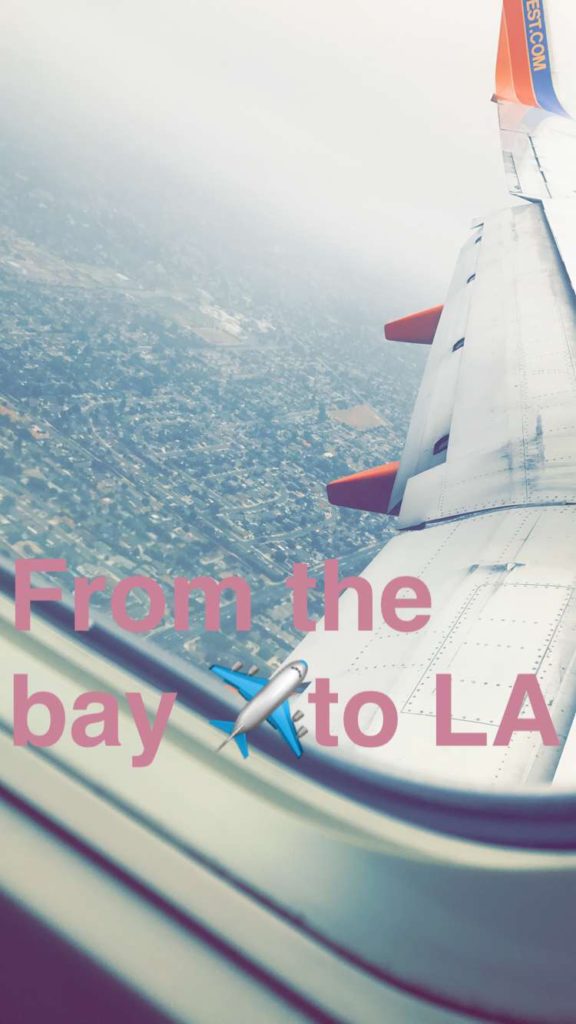 On Tuesday morning, our flight left at 6:55am (deathly early, ugh) from San Jose to the John Wayne Airport in Santa Ana. I didn't have time to apply my makeup that morning, so I did most of it on the flight. I wasn't able to finish, and when we got to the hotel our room wasn't ready because it was still super early. We were staying at Disney's Paradise Pier hotel where they had a buffet with Disney characters in costumes that would walk around and entertain while you ate. We ate breakfast while we waited for the room, and once we were finished eating our room ended up being ready.
My sister and I finished doing our makeup and we headed straight to Disneyland. Our hotel was incredibly close to Disneyland, so we walked about a block and arrived at Downtown Disney. I hadn't been to Disneyland since my senior trip 8 years ago, so it was awesome seeing all the Disney buildings again.
Unfortunately that breakfast had made me sick, and I started feeling it right when we got into Disneyland. Thankfully the sickness passed after about 30 minutes, and I was able to get on with the Disney filled day!
My mom got the whole family these customized Disneyland 2017 shirts, which have our names on them. She purchased these from Amazon, which you can check out here and customize your own shirts for your Disney Vacation! I did have high waisted shorts underneath mine, but the shirt was long enough to wear as a T-shirt dress (which you know I love doing) so I decided to wear it like that!
DB said that we were required to wear Minnie Mouse headbands when we got to Disneyland, and my sister and I were on the lookout for these pink polka dot bow headbands everywhere! We saw Sarah Hyland wore this to Disneyland in one of her Instagram photos she posted, so we definitely wanted the same one! After searching at a couple Disney shops, we finally found them at a stand and DB got them for us. Thanks DB!
Of course my sister and I had to take pics in front of the Disney Castle, since we are princesses and all…lol.
Most of the Disneyland rides are definitely for kids, but my favorite one was Indiana Jones! That ride will always be my favorite (and not because Shia Labeouf was in that movie..hehe). My least favorite ride was Space Mountain. Unfortunately I get dizzy on jerky rides and roller coasters now (I'm getting old, I guess), so that ride definitely made me dizzy (also you couldn't see anything the entire time, tf?!) The Pirates of the Caribbean ride was definitely updated…the characters in that ride were so realistic, it was awesome!
I also really liked the Haunted Mansion, because I like scary things, haha. I love that it's an actual mansion that you go into, which is pretty cool. My sister and I screamed at the part when the ghost shows up next to you in your buggy, lmao!
I love all the buildings, benches, chairs, and designs of Disneyland! So many crevices of cute backgrounds like this one, so I definitely had to take some blog pics here:
We were literally at Disneyland for almost 12 hours, so we were definitely beat! All of our feet hurt, and we were hungry, so we ate at the Catal Restaurant Uva Bar and Cafe in Downtown Disney. I got a burger and garlic fries, which was absolutely delicious. That was probably my favorite restaurant we ate at the entire trip.
We finally walked back to the hotel and of course we had to take this triplets picture! I love this photo so much of us, with our Disney shirts and matching Nike's!
We got back to the hotel around 8:30 pm, and we were soooo tired! I know my mom and DB fell asleep immediately, and my sisters and I stayed up until 10pm and fell asleep.
It was a long but fun day, and we had to get rest for California Adventure the next day! CLICK HERE to read about my California Adventure, adventure! haha 🙂
Here's the Snapchat video I did from our Disneyland day:
---