Details: White Artificial 7 ft Christmas Tree, Rose Gold Shatterproof Ornament balls, pink Vickerman 100ct Christmas lights, Ballerina ornament [similar], dog & feather ornaments [Walmart], rose gold sequined mini stocking [Target], Pink ribbon [Joann's, or similar here]
Yes…I already have my tree up! I know it's a little early [and my last post went from Halloween to Christmas in a blink of an eye], but I knew how cute my tree would be and I totally wanted it up for more than only a month! I already envisioned how I wanted my Christmas tree to look this year…and of course it had to match my home decor…which means, yes, it would be pink and white!
This is the first year I've put up and designed my own tree, which means I didn't have any ornaments from past Christmases or anything. So yes, purchasing a bunch of new items may add up…especially because Christmas trees and artificial trees can be well over $70 alone. But don't worry, putting up a Christmas tree shouldn't put you in a hole! I only spent about $90 for everything! You're welcome….
First off, I knew I wanted a white tree. I know trees are expensive, but after a lot of searching I found this 7 ft tree on Amazon for only $32.99, free shipping! That's literally a steal after seeing similar trees online for over $50! It's actually really great quality, took less than a week to arrive, and is definitely worth it. Of course it's not perfect, but if you're just looking for a tree to use for a few years I think this one is great.
I didn't want the typical red and green ribbon or tinsel to wrap around the tree, so I went to Joann's Fabric store and found some really cute pink lace ribbon to wrap around the tree [so shabby chic]! I purchased three rolls which was the perfect amount to wrap around the tree. I also found a pink wired ribbon to tie at the top of the tree which was easier to mold. Joann's has a lot of coupons on their website, so you can find some good deals. These 4 rolls of ribbon came out to around $9.
For the ornaments, I knew I wanted pink shatterproof ones so my dog Button wouldn't have any accidents. I found these rose gold ball ornaments on Amazon as well. Gorgeous set of 24 ornaments for $16.99 for the 60mm size (bigger size, which are normal sized ornament balls)!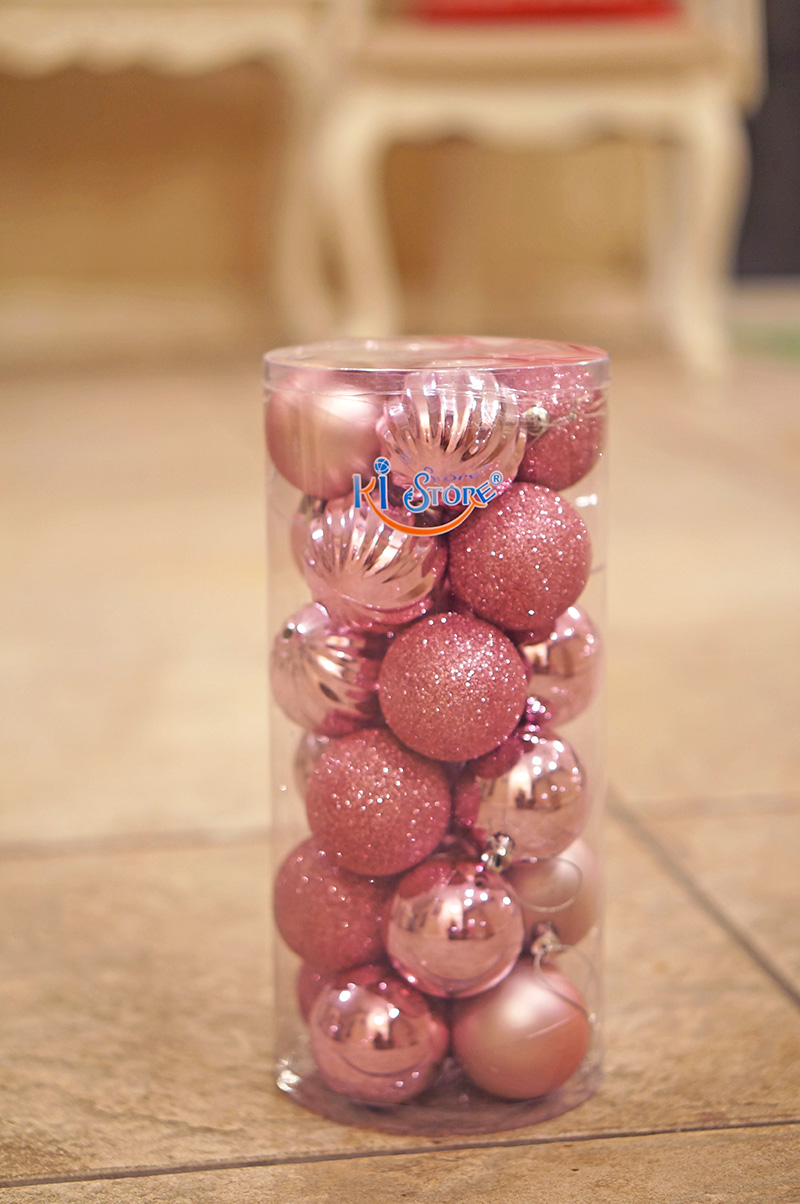 I have a couple other pink ornaments on the tree which I found at Walmart! They had a section full of pink ornaments, which is where I found the ballerina, white dog, and feathered ornaments.
The rose gold sequined mini stocking was from Target for only $3!
I love the way the tree turned out with the pink ornaments, but of course it isn't complete without the lights! I searched high and low for some pink lights, and I finally found a set of 100 lights for around $20 on Target's website. Most pink lights I found were 'hot pink' that looked red when lit, and I wanted a soft pink, so these were the best I could find. These light pink lights look a bit light purple when lit, which is bound to happen, but better than looking red!
I really love the way my girly pink tree came out! I know I didn't put a tree skirt [to cover the tree stand] but you can easily find cloth at Joann's or Walmart and just cut it into a circle with a slit to put over the stand for an affordable price.
I'm definitely excited for the Holiday's and ready to fill underneath the tree with gifts!
Of course I had to take photos of Button near the tree! She was totally being a grinch in this photo because she was tired and I kept trying to take pictures of her 😂. Totally muggin' haha!
I hope you guys like how my tree came out and the cheaper alternatives to setting up a Christmas tree!
---