All I have to say is: my birthday this year was amazing!! Literally every day this past weekend my birthday was celebrated, which was super fun and special! It made me feel like such a princess (who wouldn't like that feeling?!) and so loved.
On Saturday afternoon my mom and DB had lunch for me (Sinigang by my request, yum! Which is a Filipino soup). My sister was also there and had a large floral wrapped box waiting for me on the table. For the next few hours I would be wondering what could be in that huge box! haha!
That afternoon I had wore my birthday princess outfit – a Juicy Couture sparkly shirt I wore as a dress, Charlotte Russe thigh high boots, and topped if off with my tiara of course! The whole ensemble was so girly and princessy, which was perfect for a birthday princess like myself, haha.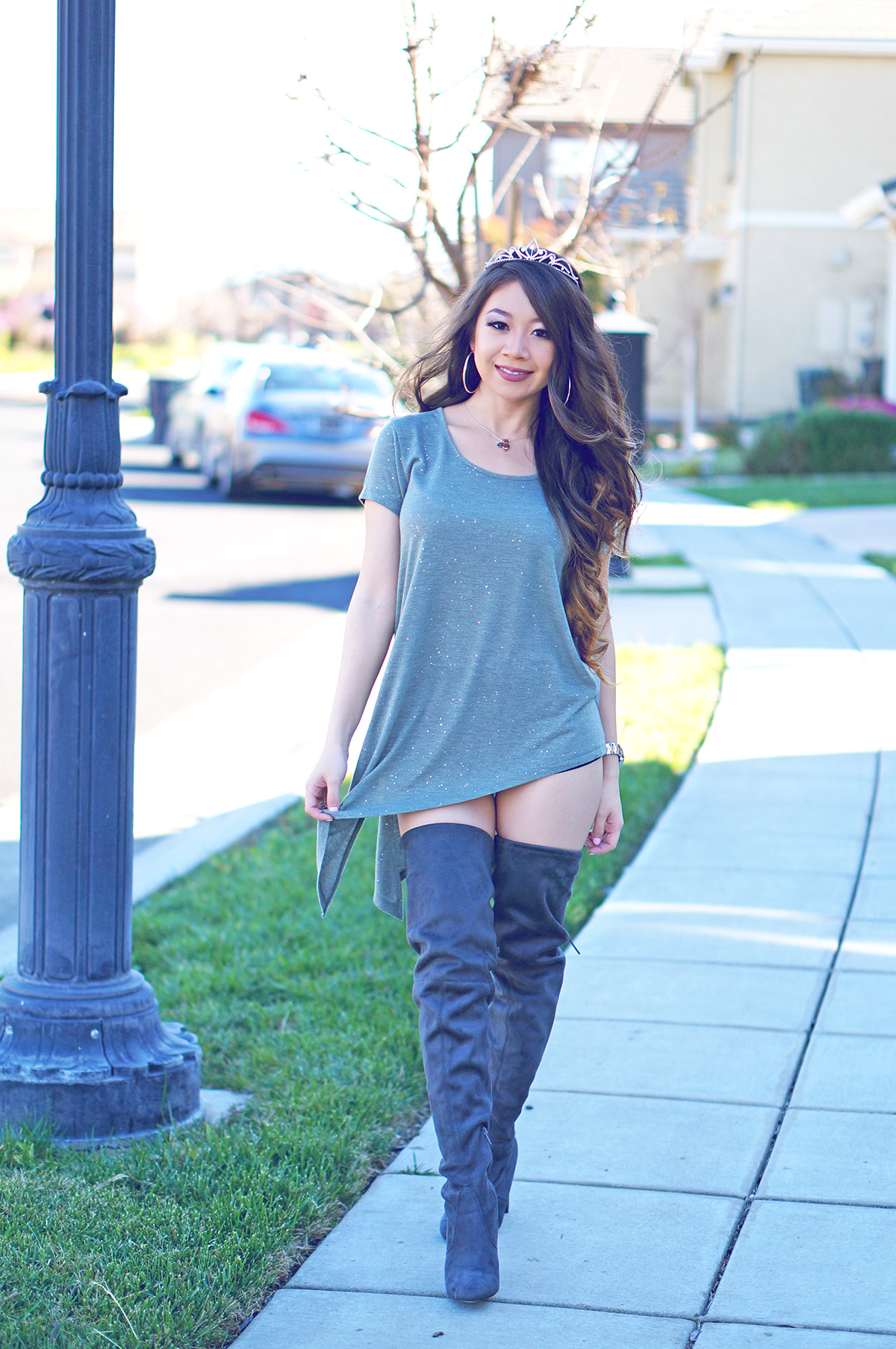 Hours later I finally opened my sister's large gift. I unwrapped the box and opened it to find: a smaller wrapped box. Now she's got me thinking "is there going to be another smaller box in this box now?" Sure enough there was…but not any kind of smaller box. A Louis Vuitton box. Yes, you read that right, a LOUIS. VUITTON. BOX. And yes, I basically screamed, started shaking, and had tears  as I unraveled this gorgeous item in front of my eyes. I never imagined my sister would get me the Rose Ballerine 6 Ring Key Holder that I'd been wanting for months! (Will do a review on this soon). I'm so grateful and happy she was able to surprise me like this, seriously the best sister ever! Thank you sees, I love you!
After that amazing moment, we took some pics and hung out while my moms cat Lyndi played in my remaining gift wrap, haha!
They also surprised me with a cake! A gorgeous light pink floral cake which I am obsessed with! It was such a gorgeous cake – and so me! It was delicious and I thank my mom and DB for this, it truly made me so happy!
That evening, my best friend Josh came to my moms because we planned to head out to Santa Cruz to celebrate my birthday and Chris's birthday, who is my birthday twin. He ate some Sinigang and we all hung out for a bit until finally heading out to Santa Cruz around 8pm.
I changed my outfit to a gold plated white crop top and high waisted shorts since we were going out. We had a blast going to a few bars and dancing the night away! They have some pretty cool bars out there, and I love that they have separate dance floors from the bar. They didn't play the best music out there, but I had fun regardless. My sister definitely pumped me up and danced all night, she's so cute!
The bars began to get super packed, basically where there is no room to dance comfortably, which pretty much irritates me. We ended up cutting the night a little short and leaving around 1am. My feet were hurting pretty badly so I demanded we take a trolly thing back to the car, which was pretty cool!
Leaving early ended up working out because once we were driving we saw the time change one hour ahead for daylight savings time, so we lost an hour! We were pretty drained that night and still woke up early the next morning!
My cute mom made us breakfast and we hung out for a bit until my sister headed back home. Josh and I ended up driving out to San Jose for a few hours so I could purchase my Louis Vuitton bag Joseph helped me get for my birthday! He wasn't able to come, but I liked that I tried on a couple bags and picked out the one I loved!
Afterwards, looking at purses made us hungry, so we ate at Cheesecake Factory – but unfortunately we had a pretty horrible experience there. Here is a story time on that: I ordered chicken tacos that came with rice and beans. The food took quite awhile – almost 30 minutes. They brought out my tacos and told me the rice and beans would come right up. 15 minutes later – yes, 15 MINUTES, my rice and beans had still not come. I had to ask three different waiters for my rice and beans. Our original waiter had said he would check on them, but he got sidetracked with a large table next to us trying to split all their bills. We grabbed a manager walking by and told him about the ordeal, and he offered to remake my plate but I definitely did not want to wait another 30 minutes for my food to come out. I told them to just bring out my rice and beans. The meal was good, but my tacos were cold by the time I ate them all together with the rice and beans. Our waiter then gave us the bill – with no discount. I asked him if we could get a discount because my tacos were cold. He came back out and said they would offer us a free cheesecake for our troubles. I was seriously thinking, um seriously? That's it? What am I supposed to do with a freakin free cheesecake? I want a discount on these cold tacos! We literally just sat there for a few minutes because I refused to pay. A different manager finally came up and asked us what the issue was. She then apologized and ended up giving my meal for free. I was happy about that, but honestly, if I hadn't spoken up I would have had to pay for that crappy meal and service! People will always take advantage of you unless you speak up and stand up for yourself. Why would I pay for a meal where they didn't even give me the remaining food until more than 15 minutes later? Ridiculous!
We ended up heading back to my moms and watched a movie with her and DB. She gave us some Sinigang to take home and we ended up leaving and ending the night there. Thank you to my mom and DB for their hospitality and all that you did for my birthday! It was very special, I love you guys! I also loved the little notes I found at my moms house:
On Monday, my actual birthday March 13, I woke up and Joseph took me to a birthday breakfast at Velvet Grille. Super delicious! He ended up having to go to work but later that night Sharon took me out to dinner and surprised me with some cute gifts! Nike Slides, pink Adidas shoes, and some cute shirts! She's so amazingly sweet and nice and I appreciate all her effort to make my birthday even more special! I love you Sharon!
Overall, I'm soooooo grateful for everyone in my life that made this weekend so special. You guys truly made me feel happy and loved. I love everyone with all my heart and soul. THANK YOU! ❤️
---