Details: Louis Vuitton 6 Ring Key Holder in Monogram/Rose Ballerine, Pink Leather Wrist Strap
One of my most frequently used LV pieces is definitely my 6 Ring Key Holder. As some of you may know, it was a gift from my sister and dad for my birthday last year (best gift ever!). I began using it in April 2017 and have used it every single day since. It holds my house keys, mail key, and car key. I've always had only 4 rings in use, so I had the other two rings removed so they wouldn't take up space. You can easily just slide the rings back on if you end up needing them, which is a cool feature.
Recently, I was thinking it would be easier to put another ring back on so I could attach a wrist strap and use it as a wristlet. Whenever I'm carrying tons of bags and stuff in my hands, carrying my key holder becomes pretty difficult as well. Especially lately, since I have a dog now and I'm always carrying her bags, leash, and sometimes even her. I've dropped my key holder several times due to these situations!
I wanted a light pink wrist strap to match the Rose Ballerine interior, and I found the perfect strap for a good price on Amazon here. The strap is genuine leather too! The color is a gorgeous light pink, a little different from the Rose Ballerine but close enough. The hardware is a gold color and matches perfectly to the LV hardware! I clipped it onto one of the key holder rings, and I just leave it sticking out to use as a wristlet!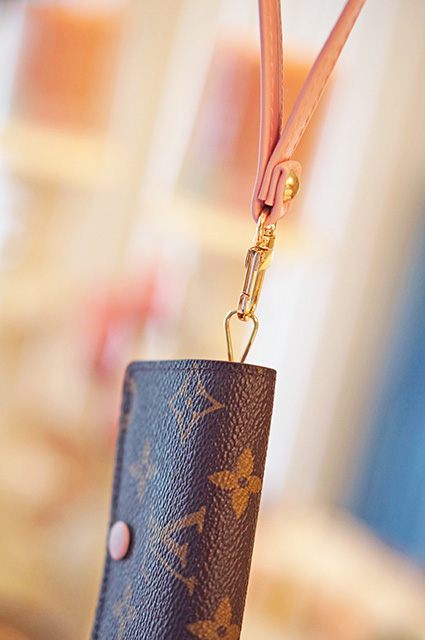 It's so much easier to have this around my wrist while my hands are full. And since I had an extra key ring available, it's the perfect way to utilize the unused hook!
You can also leave the strap inside the key holder instead of pulling it out, and it will still be able to be used around your wrist! It will work either way, so no having to worry about the strap being out or not.
Those aren't even the best parts 🙂 . When you purchase this particular item, it actually comes with two straps! A regular leather one and a dressier chain one! The chain one has a piece of PU leather in it [that part isn't real leather] but it's still good quality material. I like that you will be able to dress up the look of the key holder if you were going somewhere nice!
I'm so excited to have my key holder 'dressed' up now and completely more functional for my lifestyle. In the key holder there is a pocket behind the keys where you can put credit cards and cash too, so it even works better now as an all in one little clutch!
The wear and tear on the key holder has been pretty good as well. I haven't had any glazing issues or anything. The interior can get a little dirty because of the keys, but I wipe it with baby wipes and it's back to being perfect. For using this every single day I really thought the wear on this would be worse, but so far I haven't had any issues *knock on wood*!
Well I hope you guys enjoyed this post and hopefully it was helpful! If interested in the wrist straps check them out here.
-This post was not sponsored. I found the strap myself while searching for wrist straps. The link is an affiliate link, and I only collect a small commission for influencing your purchase. All opinions are my own. 
---