Outfit Details: Guess T-shirt, Levi's 721 High Rise Skinny Jeans, White Converse, Louis Vuitton Montsouris MM backpack
Since Halloween is coming up real soon [so fast!], I decided to be involved in some Halloweeny events in honor of this being Button's first Halloween with us. First up, the pumpkin patch! I definitely wanted photos with Button around some pumpkins looking cute, so this was a must.
This pumpkin patch was incredibly packed! There were tons of people for a Sunday evening, so I don't even want to know what this place will look like this coming Saturday before Halloween, haha. Fortunately I was able to snatch a few cute areas here and there for some quick photo ops. Button really loved the pumpkin patch! She posed for photos and also let little kids pet her.
Everyone falls in love with Button wherever we go! Many people come up to us saying how cute she is and wanting to pet her [and most of the time she's scared], but Button is slowly coming around. I've been socializing her at places like this with people around and she does fine walking next to me.
So of course the pumpkin patch is as casual as can be….but casual doesn't necessarily mean boring! I absolutely love this casual outfit I'm wearing! It reminds me of the 90's….the Guess T-shirt, high waisted Levi's jeans, white Chucks, and to top it off with the Louis Vuitton Montsouris MM backpack. Can't forget the high ponytail to go with it too 😉 !
Speaking of outfits, I'm not too sure if I will be dressing up for Halloween this year. I had an idea of what to be, but not sure if I even feel like throwing a Halloween party or going out this year. I guess I'll be deciding this week on what to do! And you'll find out what I decide when I post a blog about it haha!
Joseph and I didn't end up purchasing any pumpkins [Halloween is literally over in a week…lol], but we did support the pumpkin patch farm by getting a bag of kettle corn and a jar of lemonade to take home…delicious!!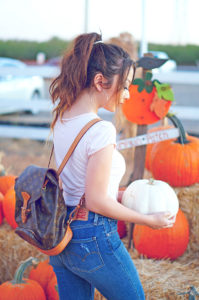 If I don't post again before Halloween, I wish everyone a fun and safe Halloween! Holidays are coming up so it's about to get busy these next couple months! Time to prepare, haha!
---