My mom's new pool and spa is finally done! Fortunately the weather was really nice out this past weekend so we were able to dip in the water and float! The spa won't be able to heat up until next week, but afterwards the pool and spa will be heated for those warm night swims! My mom and DB did a great job designing the pool and finishing up their backyard – it looks amazing and perfect for a pool party! Who needs to go on vacation when we have this amazing pool and grille here?!!
My mom and DB had a small barbecue pool party to celebrate the pool and backyard being basically finished. My sister and her boyfriend came, and I had brought Button and Josh along with me (unfortunately Joseph had to work 🙁 ) and we had an amazing lunch outside by the pool. I rarely drink, but I had an Angry Orchard to celebrate (barely any alcohol in those, anyways haha).
After we ate, it began to get much hotter outside and we decided to try the pool out. I'm not much of a swimmer, so I just decided to float on the pink flamingo I requested my mom to get for me. Button came along for the float and she loved it!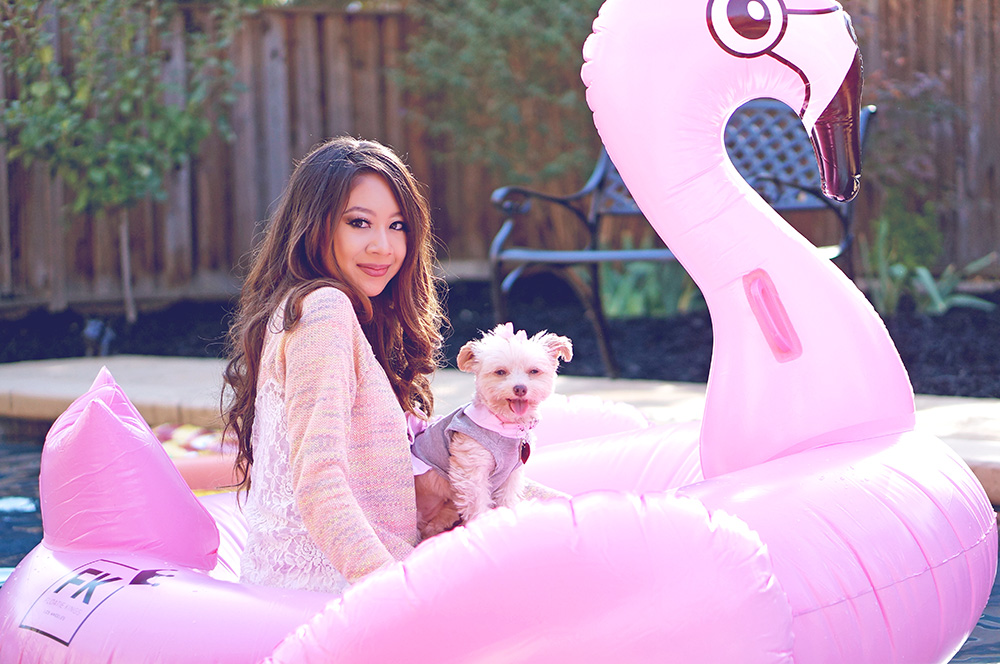 I loved these pink flamingo drink floaties my sister got as a gift for my mom and DB, super adorable! They also matched my big flamingo floaty, haha! My mom had a pizza floaty lounger up and also the clamshell floaty for my sister!
Everyone except my mom and I fully jumped into the pool (I dangled my feet in the water and floated, haha) but I decided to take my sweater off for a few more photos floating. When I did, I had put Button back and out of the pool. When she saw me still on the floaty she wanted to come back on! These photos capture that cute moment of her looking at me then jumping back on the floaty! Super cute!!
This candid pic was super funny as well! Nice candid pics are always good! I kept feeling like I was going to fall off the floaty, haha!
After we were done in the pool we chatted for awhile around the bar while the dogs played. It's always nice to spend time with them! Button also loves being at my moms house!
Once it got dark we went inside, ate the amazing peanut butter cookies DB made, and watched a movie called Scarehouse, which I thought was pretty good. I stayed until midnight talking with my sister for awhile and just spending time with her (because I love her so much hehe).
I had an amazing time, and I want to thank my mom and DB for being the most incredible hosts ever! They throw some amazing parties and get togethers! Thank you for all the time spent cooking delicious food and getting everything ready for us to come! You guys are the best!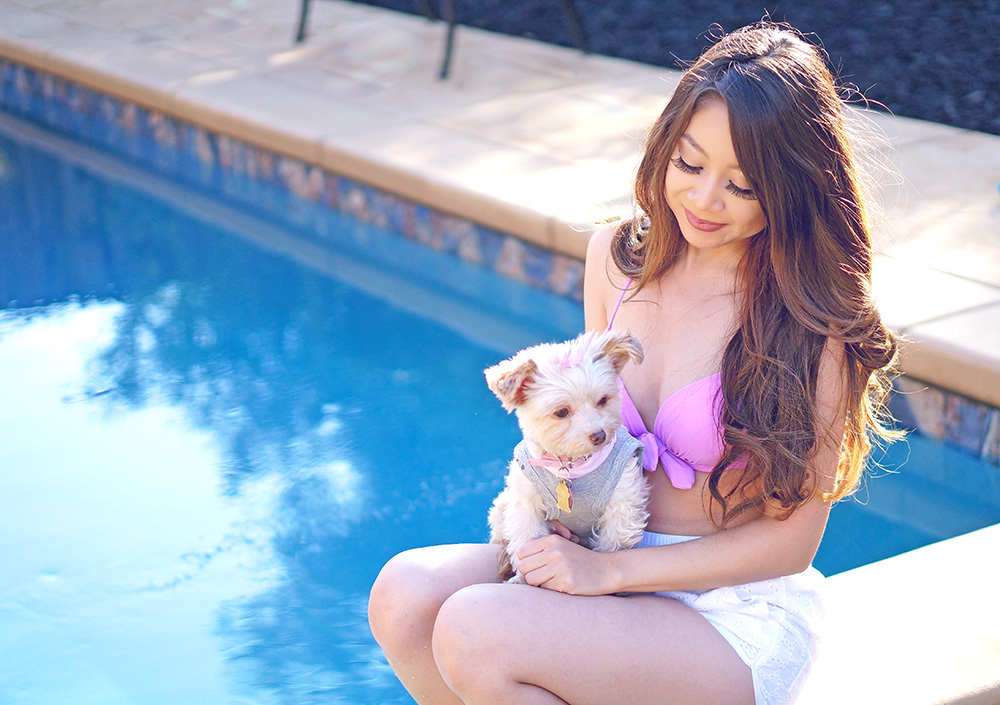 ---