This past weekend Joseph and I celebrated our 4 year anniversary (😱) and he had asked me where I wanted to go for the day. Well…since he did ask….I had been wanting to check out a vintage shop in Antioch, CA called G St. Mercantile. [I know, of all places to go I chose a vintage store 😂]. They have great reviews online, and while viewing the photos of their shop I noticed the most gorgeous pastel stairs I've ever seen! I was like, I have to take photos in front of those stairs, haha! So we decided to head out to Antioch for the day to vintage shop, eat, and explore.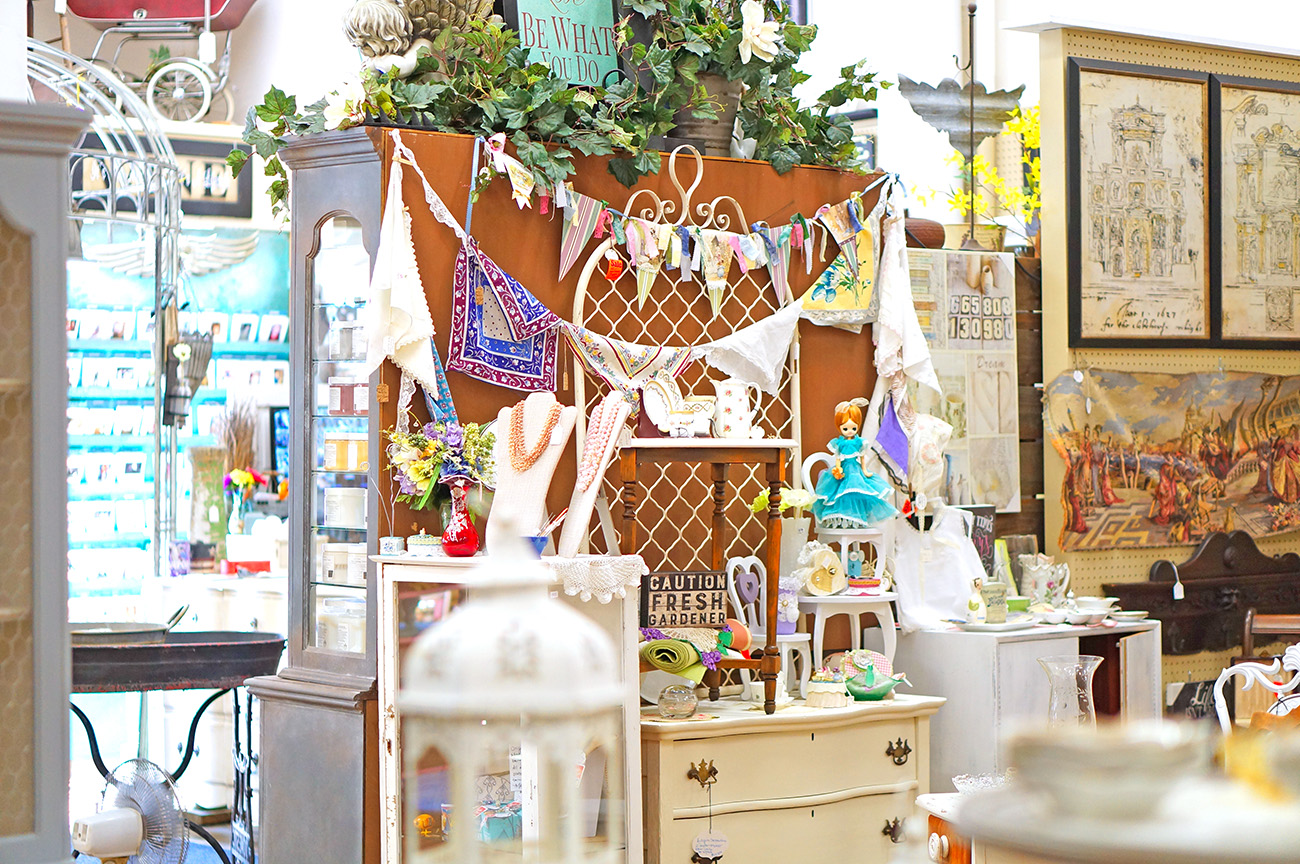 G St. Mercantile is such an adorable shop! So girly and classic…but they also have a mancave section for the guys [where Joseph was at most of the time, haha.] I also love how the store is decorated – the large white pillars definitely accentuate that vintage look. It reminds me of an English Tea room!
The beautiful floral pastel stairs led to the second floor of more vintage goodies:
I can't get over how much I love this staircase! I totally want stairs in my house that look exactly like this! My sister even said it's "Micala in Wonderland" due to the Alice and Wonderland vibes it gives off.  My blue lace dress [similar here] along with my Louis Vuitton Damier Azur Speedy 25 bag and blush Steve Madden Meow Ballet Flats were the perfect pastel additions to these stairs.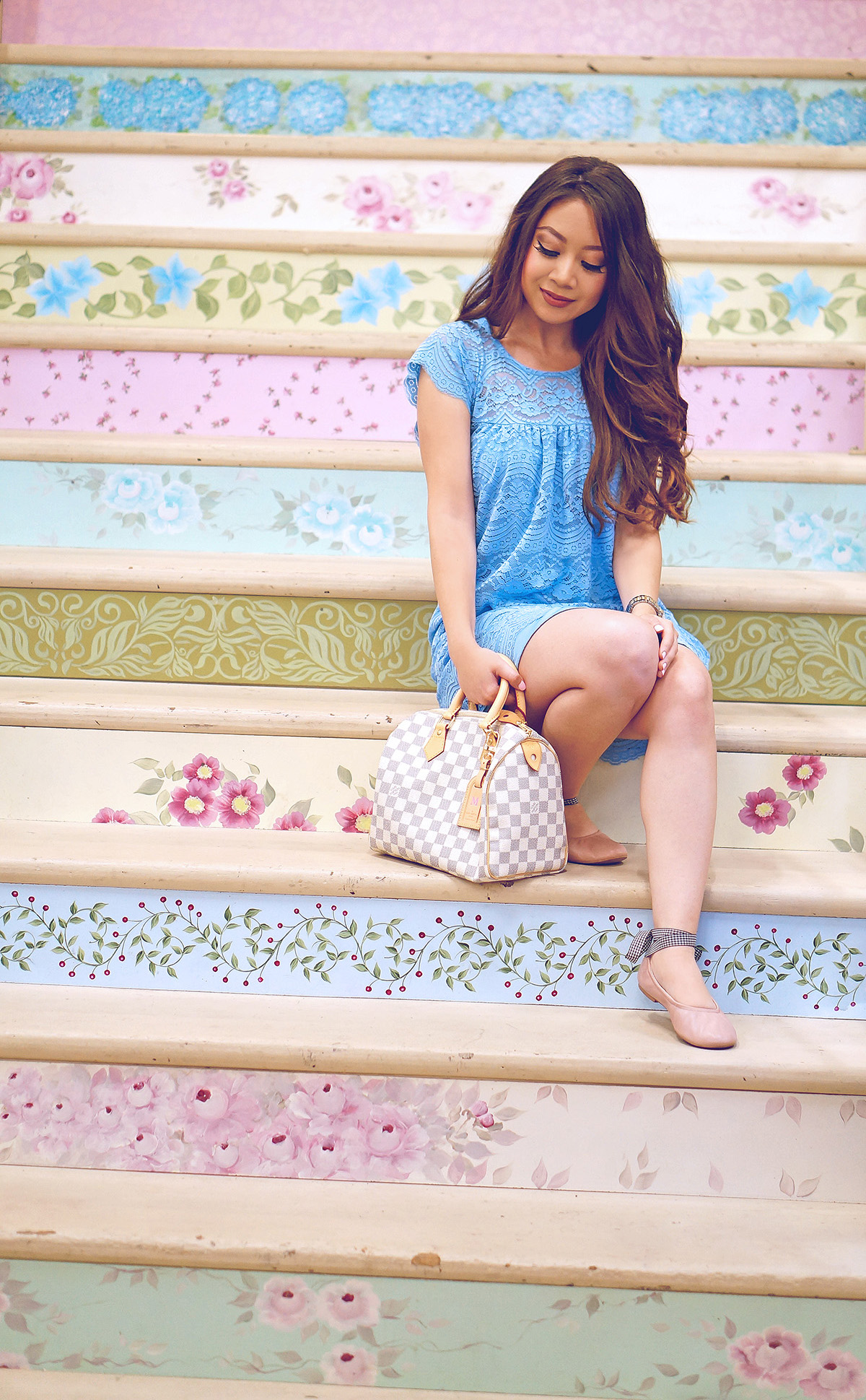 Of course I could not leave the store without purchasing something! I actually found some cute pillows and these adorable ballerina paintings [$20 each]! I've been searching for ballerina paintings with cute vintage frames for months and could never find the exact ones I've wanted until now! How adorable are these?! 😍
So thank you to G St. Mercantile for having these and that gorgeous staircase, haha! [This post is not sponsored by the way, they have no idea who I am or that I'm posting this, but you guys know how much of a vintage shop fanatic I am!] I highly recommend their store, you will find something you love there!
We also found a thrift shop nearby and I got a decor basket of faux flowers for $1, and afterwards we were starving , so we Google mapped restaurants in the downtown area. There was literally one restaurant walking distance…so we walked down the street to find it was closed. But things happen for a reason…because we ended up finding a restaurant up the street that was on the river!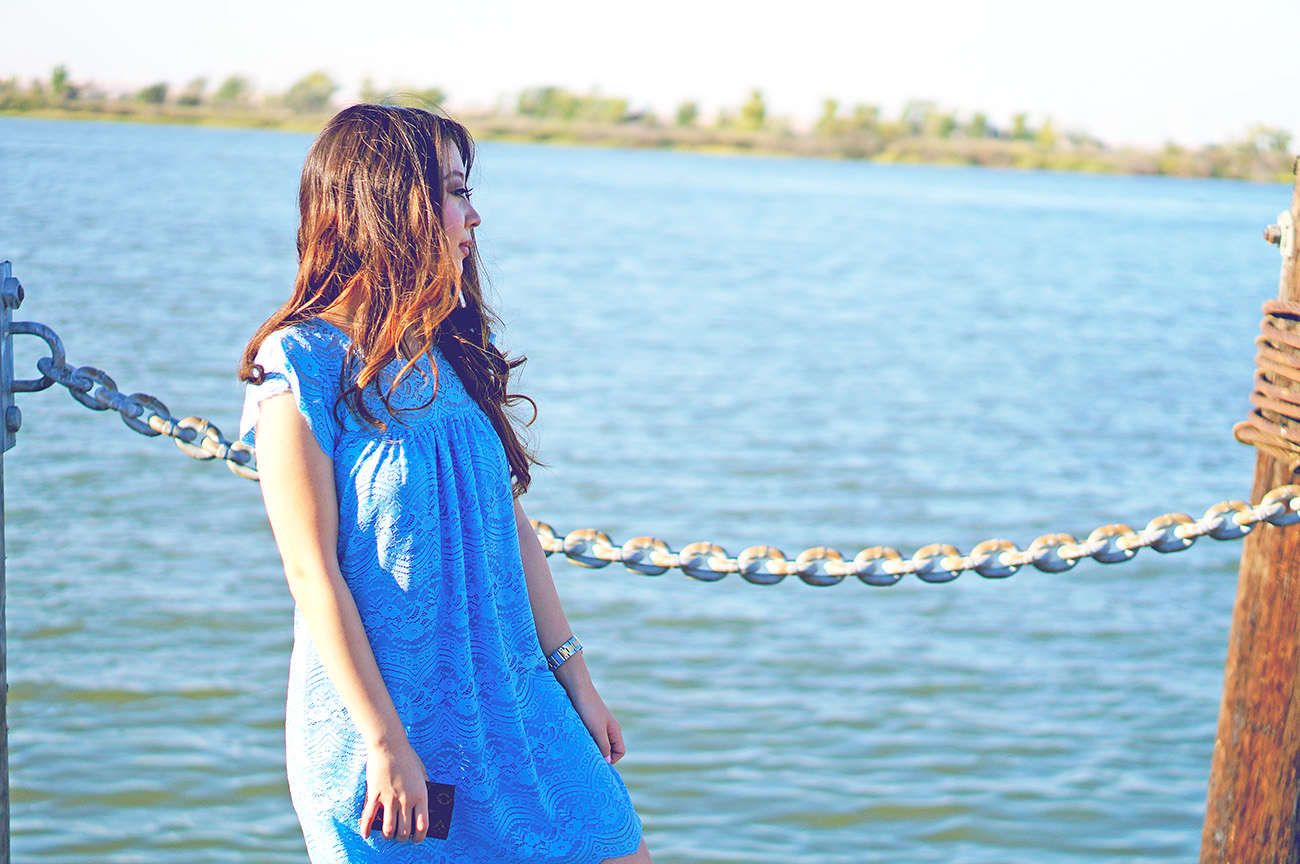 We got a window seat with a view of the river, which was very beautiful! We could see people jet skiing, boating, and fishing. The food was mediocre…I got shrimp and fries…and the smallest cup of water….but the view definitely made up for it haha.
After eating we walked downtown a bit more then decided to do some more shopping in the area. Joseph needed pants and shorts, so we headed to a couple stores like Burlington and shopped for awhile. We also headed to Target so he could pick up some school supplies since he begins a new college semester this week! On our way out we got some Jamba Juice then headed home.
It was a really fun day full of shopping and spending quality time together. I had an incredible time and love how all these photos came out!
Hope you guys enjoyed this post! If you haven't seen my post on how I decorated my house from vintage stores like this one, be sure to view it here!
---