Hey loves!!! I've been so busy settling into my new house (I know you're probably sick of hearing it!) that  I forgot about modelvale's 2 year anniversary on June 6! Well, I did remember a few days after that but kept forgetting to mention it in a post. I can't believe I've already had the blog up for two years!!! It's gone by so quickly, let alone just this past year flew by because I remember our 1 year anniversary like it was yesterday!
I have such an amazing time working on my blog and I appreciate all the people who reach out to me and all the opportunities I receive. I love looking back at my old posts and my life, so it's definitely an honor people actually care and visit modelvale. I wanted to thank all the readers that visit this blog, it means so much to me and I promise to always give you my honest advice and reviews on anything I post!
Last year for our 1 year anniversary I did a giveaway (that you can see here).  For our 2 year anniversary, of course I will be doing another giveaway! See the giveaway details here! Enter to win the newest Urban Decay Naked Heat palette!
In honor of our 2 year anni, I will also give you a cute fashion post. 😉 As I've mentioned in my last blog post, I'm obsessed with dresses for summer this year!! This cute off the shoulder ruffle dress is from Kohl's, and of course I paired it with my favorite Steve Madden ballet flats, a choker, and my Louis Vuitton Speedy 25 bag in Damier Azur.
I actually love this bag for summer! Everyone always says an Azur bag is the 'summer' bag, and although I feel it's still a good choice for all year long (except in the rain!), it really is an amazing summer bag. It definitely looks cute with dresses and can also dress up a casual outfit because it's hand held. Whenever I want to feel girly, proper, and vintage I wear this bag!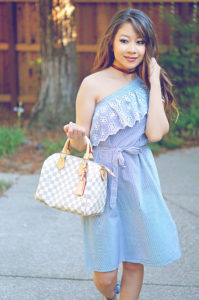 Kohl's has some pretty cute summer dresses right now, and they always have 20% off and dollar off coupons so you can't go wrong. Using coupons,
this dress
only came out to $16! I'm not sponsored by them or anything, but I just really love their deals and they have a lot of cute stuff. I shop at Kohl's more than Forever 21, because they have higher quality clothes for good prices (especially when you use them coupons, girl)!
What has been your favorite go-to summer outfit? I'd love to know, drop me a comment below!
Shop my look with the affiliate links below:
---