This past weekend was extremely fun! Of course it was Father's Day, and my sister was able to come down from the bay area and stay at my house. It was her first time at the new house and she loved it! On Saturday my mom stopped by with DB and the kids, and it was all of their first time seeing the house as well (thank you guys for bringing the Island for my kitchen)! On Sunday my dad saw the house for his first time too! It was crazy how my whole family saw the house the same weekend, which wasn't planned out whatsoever!
My sister and I took my dad out for his Father's Day/Birthday lunch, then we took him vintage shopping (yes, he loves doing that too! And I also got my sister addicted, btw. 🙂 )Afterwards we took him to get the frozen ice snack (because we are in a heat wave here in Central California, ugh over this 110 degree weather), then we surprised him by taking him to a cigar shop so he could pick out cigars (on us 😉 ). We took him to my house afterwards and surprised him with his real gifts (T-shirt, k-cups, photo, candle, card) and a nice cigar painting for his house. Then we also surprised him with his favorite burnt almond cake from Peter's. It was such an amazing day to spend with our dad and be able to take him places and shower him with surprises and gifts.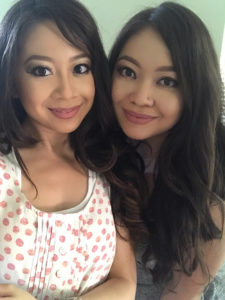 As I mentioned, we are in a serious heat wave for over a week! These summer dresses are necessary in this type of weather, especially these light flowy pieces that won't cling to my skin (gross!)
I absolutely love this Lauren Conrad hi-low baby doll tank (that I wear as a dress) with the lacey sleeves and button down front ensemble. My Steve Madden Meow ballet flats matched perfectly along with my Louis Vuitton monogram Neverfull PM that literally goes with everything!
I felt so girly and vintage with this outfit, and not to mention much more fresh than if I was wearing tight denim shorts or something :/
Thanks to my lovely seester for coming out here for the weekend! She also brought me some surprise gifts like decor pieces for my house, which was extremely generous of her! It's so funny, whenever we see each other we seem to always give each other a gift, and we are never expecting it! She's seriously my other half, and it was so sad to see her leave 🙁 Spend time with your family as much as you can, because it's one of the greatest gifts we have 🙂
Shop my look with the affiliate links below:
Top/Dress: Lauren Conrad Lace Trim Babydoll Tank
Flats: Steve Madden Meow Ballet Flats in Blush
Bag: Louis Vuitton Monogram Neverfull PM
---