The past couple weeks of settling in the new house and interior decor shopping has been a bigger challenge than I expected! It's also been such an exciting and rewarding adventure, and I love it! Thankfully the weather had been decent, mostly in the 70s. But lately it's creeping up to summer as the weather is seemingly getting hotter and hotter. And that means no more sweater dresses and thigh high boots 😩 Or does it? As I've mentioned numerous times, that was my favorite outfit of the fall and winter. But as it gets hotter, I don't think my thighs can take the boots suffocating them anymore….except on those breezy summer evenings!!
There will still be a couple days in the next few weeks with more decent weather, specifically in the 80s, where this outfit will still be relevant. This look would be perfect for those cool breezy nights as well, to go out or have a chill night with friends. You won't get bitten by mosquitos either!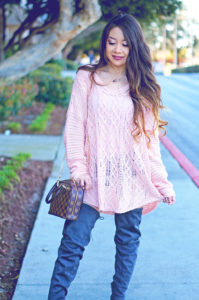 I love this light pink knit sweater because its so open and flowy – it's great as a dress or even as a bikini cover up! You can see my black shorts through the sweater, which shows how opaque it is and that you'll still be able to feel a breeze through it. Paired with my thigh high grey boots, this outfit is definitely still a must for those perfect spring and summer nights!
For summer I already know my favorite look will be off the shoulder dresses and tops – such a classic and ladylike look that I've always loved! Stick around for those posts coming soon 🙂
---