Yay! It's officially SPRING! 🌸 Too bad it's been raining this week though, but as long as it didn't rain on my birthday weekend I'm fine with it raining now, haha! I love Spring because it's never too hot or too cold. I love that perfect weather where you're comfortable – not dripping in sweat or lusting for a blanket. Days like this! Where you can wear an oversize crewneck sweater as a dress, show a little bit of skin, and then cover up in the thigh high boots. Yes, ma, yes!
I'm actually pretty obsessed with this outfit right now. I literally want to wear it everyday. It was extremely comfortable and also breathable! I'm literally just wearing a sweater and boots and it looks like I actually tried putting this ensemble together (those are the best kinds)! This Victoria's Secret PINK crewneck sweater is to die for! They do run big, as this is a size XS! But I think it's perfect, because my favorite style these days are wearing shirts and sweaters as dresses – and yes, with thigh high boots.
Sharon got these boots for me for Christmas, as I showed in my Christmas post here. Ever since then I've been wearing these nonstop! I love them so much I purchased dark gray ones from Charlotte Russe – and they were on sale! I wanted a more variety of colors since I was loving these boots on my frame. These go so well with short high waisted shorts and a crop top, to sweater dresses like this!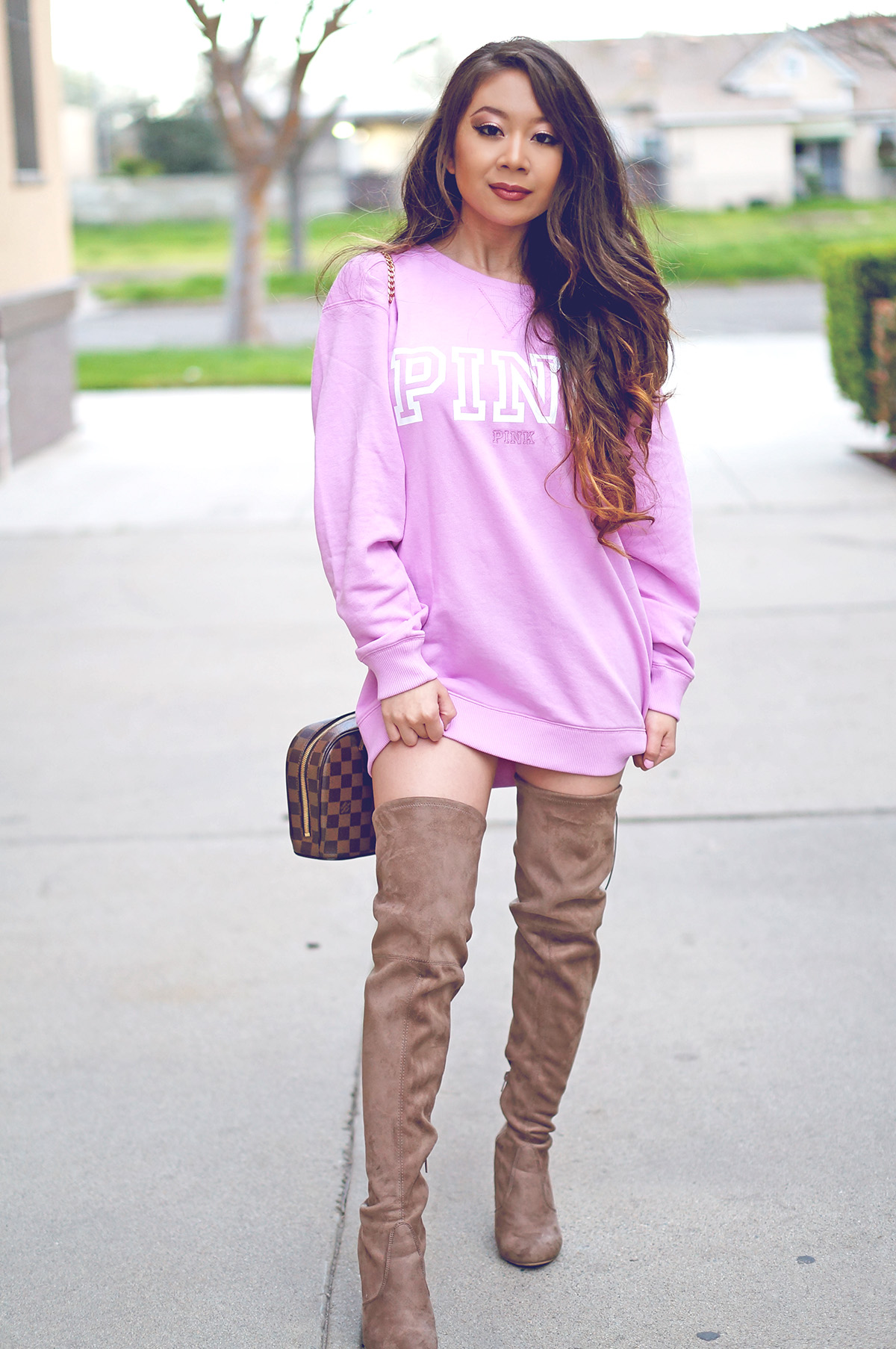 These are perfect for those breezy spring days where you just want your legs covered in case you get chilly! It's the perfect time to wear these right before summer, when you would probably be dying of a heatstroke in these haha! I'm hoping Spring can pass through slowly, so I can wear more outfits like this!
What are your favorite spring outfit trends? Let me know in the comments below!
Shop my Look with the affiliate links below:
---